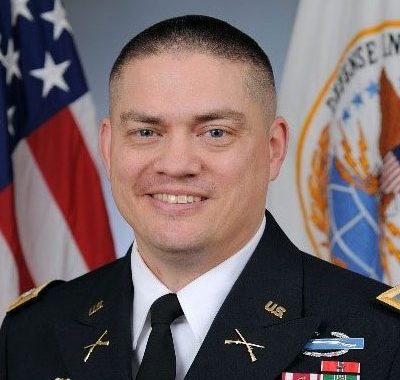 Lieutenant Colonel Ryan C. Shipley, United States Army
Member Biography
LTC Ryan C. Shipley enlisted in the United States Army in February 1995 by way of the Oregon National Guard and completed Basic and Advanced Individual Training at FT Benning, GA. While attending, he was the platoon honor graduate for his class. LTC Shipley served in C CO 1st Battalion, 186th Infantry out of Roseburg, Oregon as an assistant gunner on an M-60 machinegun crew. He received an ROTC scholarship from Oregon State University and attended the satellite program at Western Oregon University. He was a Distinguished Military Graduate, earning a Bachelors in Corrections/Law Enforcement and commissioning Infantry in the spring of 1998.
LTC Shipley's previous assignments include 3rd Brigade, 3rd Infantry Division, FT Benning, GA in A CO and HHC, 1st Battalion, 30th Infantry (Mechanized). He served as; Rifle Platoon Leader, Support Platoon Leader, HHC Executive Officer, and Battalion Maintenance Officer (BMO) conducting operations in Kosovo and Egypt. In Vicenza, Italy he served in the Southern European Task Force (SETAF) as G3 Training Officer before moving down to the 173rd Airborne Brigade as the S3 Battle Captain in Kirkuk, Iraq and S3 Training Officer. He went on to serve as the Battalion S4 in Zabol Province, Afghanistan and the Chosen CO Commander for 2nd Battalion, 503rd Infantry (Airborne).
LTC Shipley trained at FT Gordon, GA as an Information Systems Engineer after selection for Functional Area 53 (recently changed to FA26B). His first Signal Corps assignment was the S6 for 51st Expeditionary Signal Battalion serving in Balad, Iraq as the Joint Comm Infrastructure Officer. After redeployment to Joint Base Lewis-McChord, LTC Shipley served as the I Corps Knowledge Management Officer (KMO) supporting exercises in Japan and South Korea. At the U.S. Army War College (USAWC) in Carlisle Barracks, Pennsylvania, he was the Deputy Chief Information Officer (CIO) G6. His most recent assignment is the Pentagon as; J6 Configuration Management Officer, Defense Information Systems Agency (DISA) Joint Service Provider (JSP) Operations Branch Chief, and Joint Staff Support Center (JSSC) Operations Division Chief in the National Military Command Center (NMCC).
LTC Shipley has a Master of Cyber Security Policy and Management from the University of Maryland University College (UMUC). He is a graduate of Army Basic Training and Infantry Advanced Individual Training (AIT), Infantry Officer Basic and Advanced Courses, Combined Arms Staff Service School (CAS3) Airborne School, Mechanized Leaders Course, Ranger School, Information Systems Manager (ISM) Course, Command and General Staff College (CGSC), and the Joint and Combined Warfighting School.
His awards and decorations include; Combat Infantryman's Badge, Ranger Tab, Airborne Wings, Italian Jump Wings, Joint Staff Identification Badge, Bronze Star with Oak Leaf Cluster, Meritorious Service Medal with Oak Leaf Cluster, Army Commendation Medal with Oak Leaf Cluster, Joint Service Achievement Medal, Army Achievement Medal with 2 Oak Leaf Clusters, National Defense Service Medal with Bronze Service Star, Kosovo Campaign Medal with Bronze Star Device, Afghanistan Campaign Medal, Iraq Campaign Medal with 2nd Bronze Star Device, Global War on Terrorism Expeditionary Medal, Global War on Terrorism Service Medal, Army Service Ribbon, Army Overseas Ribbon with 3rd Numeral Device, NATO Kosovo Medal, Joint Meritorious Unit Award with Oak Leaf Cluster, and the Army Meritorious Unit Commendation.