The 173d Airborne Brigade National Memorial Foundation is a non-profit corporation that receives no funding from the United States Army or the Federal Government.
The 173d Airborne Brigade National Memorial was constructed and dedicated as a result of donations from more than 1,600 individuals, organizations and corporate sponsors including Avis Budget Group, Delta Airlines, Carl Black GMC, Medals of America, Hooters, Integrity Bank, Chick-fil-A, Rail Technology, Incorporated, and eighteen Chapters of the 173d Airborne Brigade Association.
The construction fund drive received a significant contribution from the proceeds of the "Day of Honor Concert" organized by William K. Alphin and John D. Rich, (better know as "Big and Rich"). The concert was held at the HIFIBUYS Amphitheatre in Atlanta, Georgia on 7 July 2006. It became a reality through the generosity of Country-Rock Band star Lynyrd Skynyrd, who was scheduled to perform at the Amphitheater with other Country Music artists that night. Skynyrd gave the Memorial Foundation his coveted Saturday evening concert slot, and then agreed to perform along with Big & Rich and other Country Musicians including The Lost Trailers, John Anderson, Cowboy Troy, and Two Foot Fred.
The proceeds from the Day of Honor concert along with the generous donations of individuals and organizations made construction of the Memorial possible.
HOWEVER, the work is not done!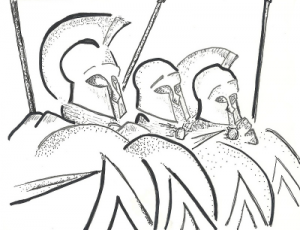 The 173d Airborne Brigade Memorial is a magnificent structure dedicated to the warriors of one of the finest units in the United States army. To keep memorial in its current condition requires annual maintenance as well as funds for electricity, water and landscaping. Additional funding is required on an occasional basis to update the black granite panels containing the names of the fallen as well as the Brigade's history and awards.
In 2011, the Memorial Foundation Board of Directors established the "Spartan Club" with the goal of recruiting 300 "Spartans" who were asked to pledge annual contributions beginning at $25.00 for ten years with the goal of creating a $300,000.00 Endowment Fund to maintain the Memorial.
As of 1 June 2020, the 173d Airborne Brigade National Memorial Foundation had 223 Spartan Club members, 137 of whom have fully paid their pledges. Participating Spartan organizations include Association Chapters I (Sigholtz Capital Chapter), II (New York), III (Columbus/Fort Benning) IX (New England), XIV (Southern California), XV (Minneapolis) and XXV (Phoenix Thunderbirds).
It is not too late for Sky Soldiers (individuals and organizations) our friends and supporters to participate in this vital effort that will maintain our world class memorial in pristine condition for years to come. To contribute to the endowment Fund, please click on the "donate" button below or send your contributions to the Memorial Foundation at 124 Tugboat Lane, Summerville SC 29486. The Memorial Foundation is an IRS recognized 501(c) organization and contributions may be tax deductible.